Why do some executives and managers with similar experience and skills progress up the career ladder while others get passed by? The visibility achieved by authentic Personal Branding is the missing piece.
We all know how competitive career progression is at Executive and Manager level. In a field of similarly experienced professionals, attracting the attention of key decision makers, executive recruiters and headhunters is crucial to progress to that next level. It's the visibility and credibility created through authentic Personal Branding that creates the vital connections and networks that make it happen.
This article overviews the challenges that stop Executives and Managers from leveraging the power of Personal Branding. We also show how to overcome these challenges with practical action steps and outline some examples for using LinkedIn and other Personal Branding tools to achieve career goals.
If a Recruiter Viewed Your Profile Today Would You Pass?
Not only is online visibility essential for Executives, accurate, quality information posted online about you is essential. Did you know that 75% of Human Resources and Recruitment professionals not only check online profiles, but they admit that it very significantly influences their hiring decisions?*
Did you know that 50% of Google search results revealed to these Human Resources professionals is not favourable information?
In a world where your online presence now has an undeniable impact on your career progression, having a positive and strategic Personal Brand that helps you stand apart from the competition is no longer a 'nice to have', but a necessity for those seeking a promotion.
Consider This: You Already Have a Personal Brand.
Your online presence is impacting your reputation right now. What does yours say about you?
"In today's career market, the professionals who achieve their career goals are the ones who are already seen as leaders by the people who make decisions. Personal Branding is an incredibly potent tool in achieving authentic visibility because it creates relationships with the people that you've yet to meet."
Trudy Johnston, Founder of Vim + Zest
Overcoming the Barriers to Harnessing Personal Branding
Did you know 87% of Executives rate managing their reputation risk as more important than other strategic risks? Or that 58% believe their Personal Brand should be addressed, but only 15% actually do anything about it. 
Which percentage do you sit in?
There are a number of reasons that stop Executives and Managers from diving into Personal Branding. 
1. Imposter Syndrome
The fear that if we present ourselves in the public arena and reveal our true selves, someone will discover that we're a fraud. This is a very real factor holding professionals back.
Building an authentic Personal Brand creates an online presence that audiences connect with more personally. This helps to mitigate the imposter syndrome fears.
2. Corporate Affairs Unable Help Professionals Build Personal Brands
Most Corporate Affairs teams are comparatively small, endlessly busy and otherwise focused on organisational brand management and marketing campaigns. When a strong Personal Brand Strategy is planned and executed well by an individual, it creates a double-win for the organisation because both the professional's Personal Brand and organisational brand are accelerated.
3. Potential Challenges with Professional Colleagues
Some Executives and Managers feel challenged in taking control of their Personal Brand whilst simultaneously meeting their organisational communications objectives. Many times these barriers have been negotiated and overcome by strategically executing a strong Personal Brand Action Plan that also amplifies an organisation's Employer Branding.
Realistically, a well-executed strategic Personal Brand campaign actively builds the online presence of inter-connected business brands in a very potent movement. It's called the Brand Spiral.
The Brand Spiral movement is a highly potent ever-growing movement of building brand perception. It works through an interconnected, symbiotic relationship between a professional's Personal Brand and their business brand.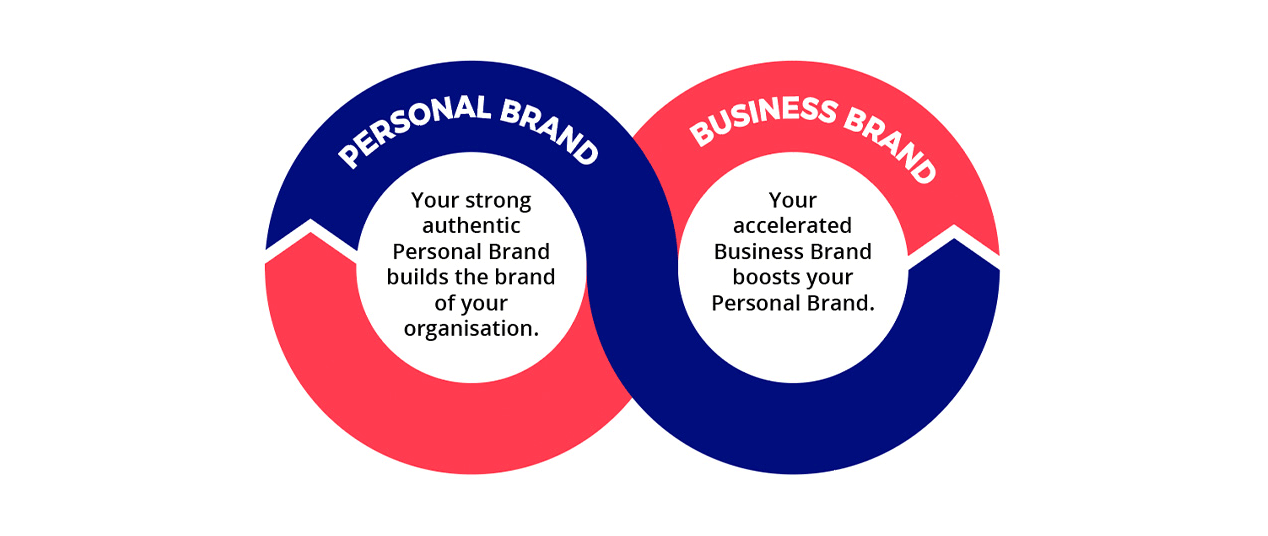 The more we build the Personal Brand of an Executive or leader, the more the business brand grows, and vice versa.
Consider this: brand messages shared by employees on their individual social media earn 561% more reach than the same messages shared by the brand's social media. They also receive 8 times more engagement on individual social media accounts
. 
When the Personal Brand is interlinked with an organisational brand we see the Brand Spiral movement  in motion. The fact that 92% of people trust recommendations from individuals over businesses – even if they don't know them – demonstrates a huge potential opportunity for business brands to leverage their professionals' individual Personal Brands and vice versa.
You might be interested in:
How to Make your LinkedIn Profile Stand Out
"LinkedIn is one of the most underrated social media platforms available, it's the largest professional network in the world and is full of highly engaged users that are actively seeking ways to build relationships. Personal Branding is essentially relationship building, which makes LinkedIn a perfect tool for execution."  
Tiare Leahy, Digital Manager, Vim + Zest
There are a few key principles to build a strong LinkedIn profile that will set the foundation for a robust Personal Brand. Think of your LinkedIn profile page as a mini website. It's your digital home. The best LinkedIn profile examples have these key components well in place. The first step to LinkedIn mastery is getting your profile right.
How to Build a Good Linkedin Profile
First impressions count. It takes only a few seconds for someone to decide if their curiosity about you is sufficient to warrant greater investigation into who you are. These precious few seconds could mean a potential new position opening or not. It's definitely an investment worth making.
It doesn't take long to build a good LinkedIn profile – just clarity, good imagery and an uninterrupted afternoon! Remember those recruiter search results? Approximately 50% of professionals' profiles are not good, so if you improve yours, make it current and attractive, you'll be head and shoulders above most of your competition! These are four steps you'll need to immediately establish:
1. Cover Banner
Your LinkedIn banner gives your audience an immediate understanding of you, your story and what you stand for. It's part of your visual identity. It's free real estate so make it work for you.
2. Profile Picture
Invest in a professional photographer. It may be cliched but it's true: 'an image speaks a thousand words' so make your portrait image as compelling and inviting as possible. It's worth getting right. Visual communication offers a powerful, immediate understanding of you, your values and your story. Ensure your visual background is uncluttered, you're dressed appropriately for your audience and your facial expression is welcoming.
3. Optimise Your Headline
Do the research. Know what type of keywords people are using in order to find industry leaders like you in your field. Ensure you use these in your headline. It will increase your search visibility.
4. Biography: Your 'About' Summary 
This is the place to promote the unique you at your best. State your mission – WHY you do what you do. Highlight your aspirations and achievements. Make it personal and interweave your personal story with career achievements. Your biography will sit below this biography so enhance your biographical details, don't repeat them. Consider why someone would want to connect with you after reading your bio. Write your biography from this perspective. You are far more than your chronology!
5. Biography Snippet
The opener to your biography is key. At one or two sentences (approximately 30 words or 230 characters, including spaces), this opener is your introduction. Think of it as your Brand Positioning Statement. It needs to summarise everything about you and invite the reader to learn more about you. Like the opening scenes of a movie or the first few lines of a book, set the scene for your reader, build intrigue with clarity and conviction.
How to Lead the Conversation for Visibility
Personal Branding is a platform that increases your visibility, builds thought leadership and establishes you as a credible leader in your industry sector. The kind of leader that gets noticed by recruiters, head hunters and decision makers. 
There is a science behind creating thought leadership. If you post and talk about what's happening in daily life and in the work arena of your sector, you're part of the social conversation. You become known for holding and conveying these opinions and analysis. You are part of the professional conversation and this is a good thing. It's the start place.
What people are very curious about is what's trending. What our world will be like in the future. What can we expect in a few years time? How can we navigate today's challenges and optimise tomorrow's opportunities?
You might be interested in:
Contextual Relevance is Essential
Leadership must always be contextually relevant. Content must always be audience-centric and delivered in an appropriate tone of voice for the audience. What amplifies leadership well and rises the an Executive or Manager ahead of their contemporaries is identifying trending topics and having an opinion about them. Future-focused subject matter furnishes a leader with the ability to talk about industry trends within an industry sector. By presenting analysis on information in this way means you'll be talking about topics and information that your target market needs, before they even know they need it. 
It builds authority, credibility and visibility the same time – in the most compelling way possible. You are exactly in the right place at the right time to get noticed by the right people. 
LinkedIn profile example: Andrew Penn
With more than 85,000 followers on LinkedIn, CEO of Telstra Andrew Penn is an excellent example of thought leadership on LinkedIn.
His topics contextually engage with the current socio-political landscape. He participates in the news agenda of the day with posts that are rich in insightful analysis and provide valuable information to his followers. He imbues his personality into his content in a highly professional way. He gets the personal/professional balance right.
LinkedIn profile example: Satya Nadella
Chief Executive Officer of Microsoft, Satya Nadella, is a leading example of how the ability to be authoritative and yet vulnerable in communication builds a strong Personal Brand with loyal followers. Satya currently has more than eight million followers. 
Satya is just as comfortable talking about emerging technologies and business partners, as he is talking candidly about his feelings on racism. 
His skills in emotional storytelling are best exemplified in a personal article he wrote about his father, which received more than 170,000 likes and 3,400 comments. 
Engagement That Makes The Connections That Open Doors
For Executives and Managers to achieve cut-through in a highly competitive and digitalised professional landscape means anchoring subject matter in future-trending topics (as described above) and through extensive network outreach – on and offline – in panel discussions, webinars and speaking engagements. 
Authentic Personal Branding is about marrying professional insights and achievements with bold story-telling. It's about honest self-revelation in a way that makes narrative sense and also empathetically touches the audience, highlighting their achievements and spotlighting their struggles.
This way of communicating goes far beyond traditional PR campaign implementation with eloquent recitation of key messages and polished television appearances.
Tone of Voice and Bringing the Personal into the Professional
Audiences are highly discerning and have short attention spans. 'Being real' is the best way to connect with them and all your communications must be integrous. You need to be a good story-teller and be prepared to be vulnerable.
"Personal Branding makes leaders the visible face of their organisation. The best way to achieve this is by using emotional storytelling, with vulnerability and self-revelation, to show why you do what you do. This way you demonstrate your values not just talk about them. Values are intrinsic to our identity. If someone can identify that they share your values they'll more readily be open to trusting you and create a relationship with you."
Trudy Johnston, Founder of Vim + Zest
Brene Brown: Brilliant Personalised Professionalism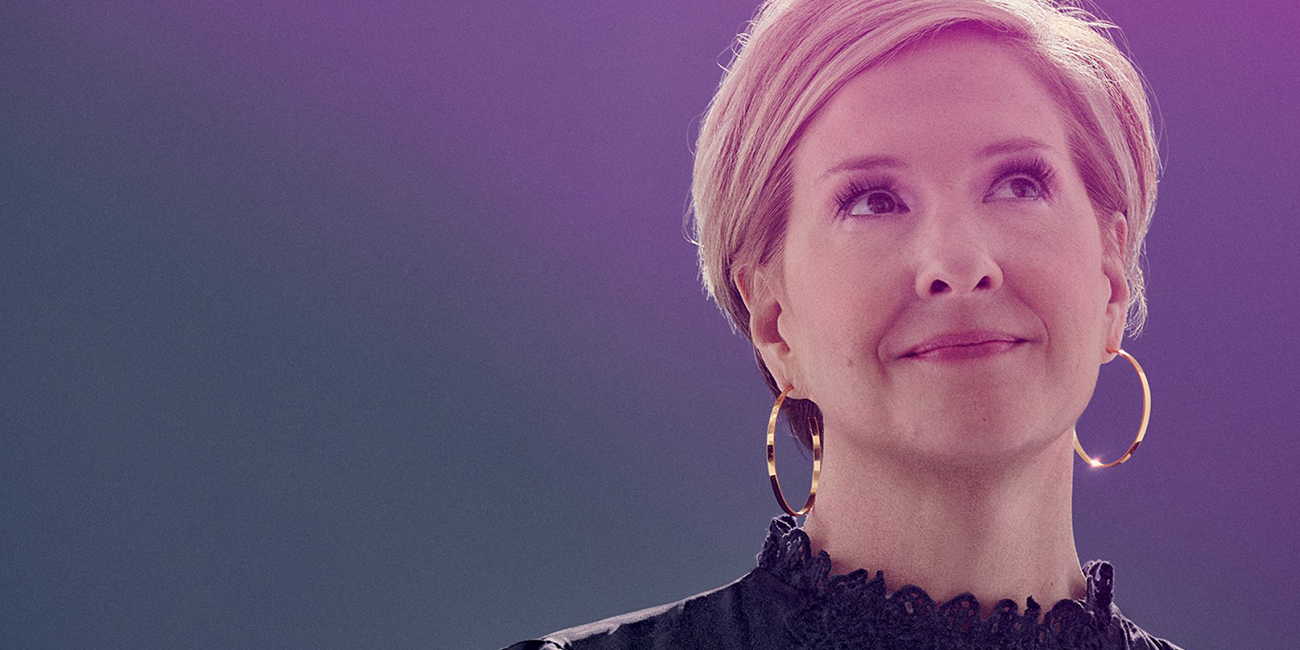 American Professor, lecturer, author and podcast host Brene Brown advocates for the power of vulnerability. Deeply engaging with her audiences, in her TED talks and books she talks about the power of stepping out of our comfort zone and being courageous. Interweaving her professional achievements with self exposure through humour, she demonstrates in the most compelling way that vulnerability is the birthplace of love, belonging, joy, courage, empathy and creativity. She gives her audience permission to feel and express their vulnerability.
How to Get a Promotion at Work
When an Executive or Manager is trying to get promoted, achieve a Board level position or transition into a new industry sector or a Not-For-Profit role, authentic visibility is needed to attract the attention of primary decision makers: the C Suite, Directors of Boards, recruiters and headhunters.
To use Personal Branding to achieve your career aspiration, master these key areas:
1. Get your online 'home' in order. If you have a website, ensure it's updated. Optimise your LinkedIn profile, with a well-designed banner and compelling About profile that shows who you are and why you do what you do.
2. Build online visibility and lead the conversation by engaging in future-trending topics and subject matter. Be informed and share your opinions in a way that facilitates conversation
3. Bring the 'personal into the professional'. Use authentic storytelling to engage your listeners and viewers and grow your online presence this way. Let people get a sense of who you are – let them feel the person who is inside the role. Be relatable. Be generous. Share your knowledge.
4. Know that becoming visible is a journey of revealing who you are. There might be a fear response and this is normal. Becoming visible also gives you an incredible opportunity to connect. Do what you can, in your way, to overcome any fears so you can embrace the benefits of authentic Personal Branding to achieve your goals.
When coupled with Personal Branding's incredible power to build visibility and credibility, the Executives and Managers who win are those who attract the opportunities that knock on their doors. 
Vim + Zest is a specialist Branding and Marketing agency for people and organisations that matter. We help leaders to create impact to build a better world.
*https://www.entrepreneur.com/article/280371