Why Storytelling in Marketing Just Became More Important Than Ever​
We make purchase decisions based on emotions. We develop emotional connections to brands, products and ultimately what we will feel if we purchase them. 
This isn't earth shattering news. Public relations practitioners, marketers and advertisers have known it for years. 
So what's changed? In today's world of constant information overload, consumers have instant access and use it to research their decision. 
But it's not the information that makes them purchase, it's the emotional connection created when they build a connection or trust with a product, brand or company. 
Why?
Because emotional connection is what we're missing. And we're craving it more than ever.
Now is the time to connect with your people on an emotional level. People want to feel safe. People want to feel part of something.
Storytelling marketing uses words and visuals to connect with your audience. 
Storytelling is the missing piece in the marketing puzzle. The secret weapon in building emotional connection.
Connection means they continue to read. Continue to move through your marketing journey. Continue through your sales funnel. They purchase. Then come back again.
So how do you do Emotional Storytelling Marketing?​
Keeping your lead generation strategy in mind, let's start by making sure you understand which emotions you should be targeting.
Find Out How Your Customers and Target Market Feel About Your Brand Right Now
You might think you already know this. There are two HUGE branding mistakes that we see almost daily. The first is assuming you know exactly who your target market is. The second is assuming you know what they think and feel about your brand. Do the work. Ask the questions. The information you obtain will be invaluable.
Approximately 70 percent of our time is spent in research. When we know exactly who we are writing for, what their purchase motivations are and what stops them from buying we write marketing and advertising copy that speaks directly to them and inspires action. 
If you are concerned about the cost of this process here are some highly cost effective ways you can find out what your customers feel straight away. 
Talk to your customers – get out on the shop floor and ask them questions. Be polite and genuine and thank them for the information they have given. If you don't have a shop floor deliver your online purchases with a survey and give an incentive to complete it.
Social Media – social media provides highly effective insights into your customer's diary. While the analogy is a little creepy, it is true. Find out what your customers are saying about you and what they love or hate about your competitors. 
Identify the ultimate benefit the customer seeks from your product
When you're asking questions of your customer, the one at the top of your list should be what is the ultimate benefit your customer gains from buying your product.
We don't choose to go on a beach holiday because we think the weather will be nice at that time of year. 
We choose to go on a beach holiday because it reminds us of sun soaked days spent with your Dad throwing you up in the air and splashing down into the ocean. We're chasing that feeling.
We don't choose to buy a house near the beach because it's a great location. 
We choose that house because it reminds you of your Mum wrapping you up in a towel and giving you ice cream. We're chasing that emotion.
In these examples the ultimate benefit is reconnecting with your family, partner, friends and giving yourself room to relax, indulge and rejuvenate. 
What is the emotional benefit a customer receives from your product or service?
Now you know your customer's key benefit – you know where their heart lies. 
Three Steps to Emotional Storytelling
Now, let's get practical. Let's show you how to tell a story. A story that will speak to the heart.
Step One: Imagery
It is incredibly tempting to place a stunning image of a hotel or property as the hero on an advertisement, brochure or website. 
It will look good. But it lacks emotional intelligence. It won't touch the heart of your consumer. 
Therefore it won't prompt them to move forward through the purchase decision journey by seeking further information. 
How do you infuse storytelling marketing in your images? 
How do you choose an image that will emotionally engage your audience?
Make it human – make sure there are people 'feeling something' in your photos. If the ultimate reason people would choose a holiday at your resort is to reconnect to family, invest in some quality imagery with a family of models making memories together.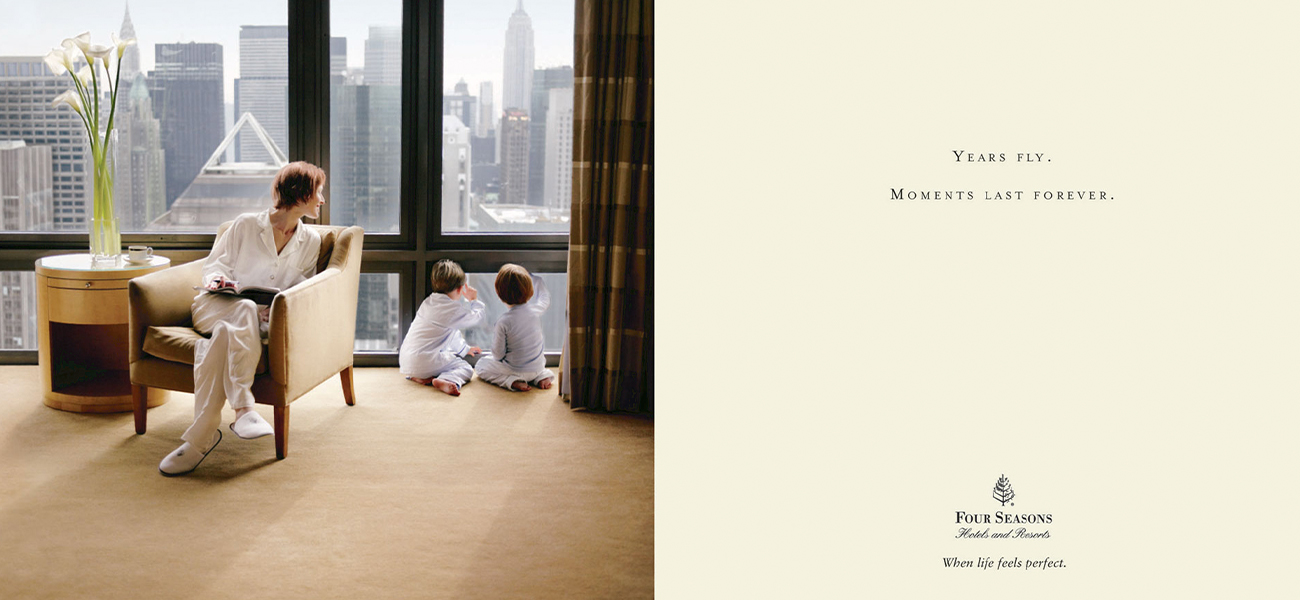 Put yourself in the picture – photos without people can work if they make your audience want to put themselves in the picture. A day bed with a towel and open book on a stunning beach beckons the reader to imagine themselves there, getting that dose of relaxation and indulgence they crave. This will work, but it doesn't create as much impact as photos of people 'feeling something'.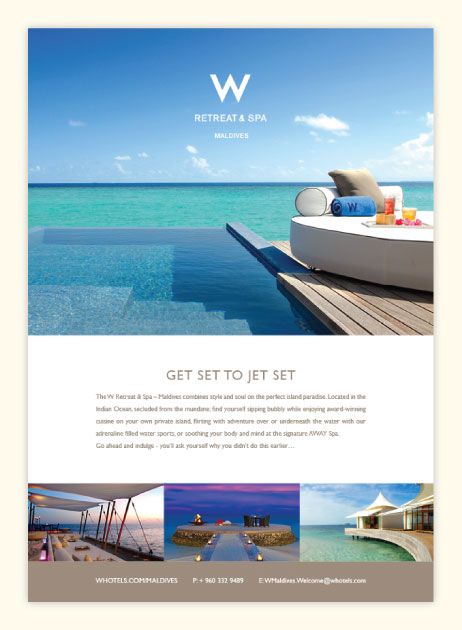 Here Westin Retreat and Spa tantilises you with private poolside cocktails ready and waiting, dripping in beads of condensation.
Step Two: Video 
Video is an incredibly powerful marketing tool. 
Mantra Resorts' 2017 My kind of special campaign captured the magic felt on holiday by telling the story of a family reconnecting and parents finding time to re-charge.
EdgeProp created an incredible campaign about their property services by telling the story of a couple looking for their perfect home.
Don't just show what you do. Tell the story of the emotion the customer will feel, thanks to your product or service.
Step Three: Words
Don't be afraid to speak to emotions in your copy. 
It is too easy to start writing about your product or service from a features point of view. For example:
Our Resort features a spacious lagoon pool, comprehensive Kid's Club and three family friendly restaurants.
This text gives the reader information, but won't make them buy. They need to feel a connection between what they ultimately want to get out of the holiday and what your resort offers. 
Try this instead:
Hear the kids' squeals of laughter fill the air as they race each other across the pool.


Take a moment to just luxuriate on the beach while the kids make new friends at Kid's Club.


Then break the family record for most prawns consumed in one sitting at the Seafood Buffet.


It's time to make some memories.
This copy not only talks about the benefits, rather than features, but does so in a way that tells the story of a family. 
You might be interested in:
Storytelling Marketing for Emotional Connection
We're 'connected' on social media to more people than ever but crave a connection that is entirely different. 
A connection that is deeper. A connection built on trust. A connection in which we see something of ourselves and our values in the product, company or person we are choosing to purchase from. 
How do you create that emotional connection with potential customers?
Tell your story and speak to their heart!
Vim + Zest is a specialist Branding and Marketing agency for people and organisations that matter. We help leaders to create impact to build a better world.